Purchase a Gift Certificate
The perfect gift for the world traveler in your life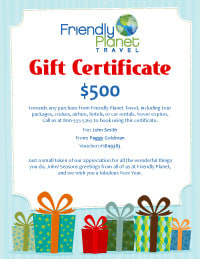 Our travel gift certificates are available in any amount starting at $100 and spend like cash towards almost any purchase from Friendly Planet.* And you can use them whenever you like, because they never expire. Redeem them for one of our dozens of all-inclusive tour packages to some of the most exotic places on the planet.
To purchase with your credit card or PayPal account, use the secure payment form below. Or call us at 800-555-5765. We can send it to you or the recipient, by email or postal mail, on any date you like (except weekends and holidays).
Your privacy is safe with us. Unless you've previously chosen to be on our mailing list, we won't contact you or the recipient except as necessary to process your gift certificate purchase.
* Gift certificates can be redeemed towards the purchase of any tour or package purchased from Friendly Planet, including optional extensions, optional upgrades, optional excursions, travel insurance, and airport taxes and fees that can be paid in advance of travel. They may NOT be redeemed for visa fees or any items purchased on tour or abroad, including optional excursions, or border crossing fees or airport taxes that must be paid while travelling.
---
YOUR SECURITY: Your payment information is safe with us. When you submit this form, the data you enter will be securely transmitted using SSL encryption. To confirm, look for the "lock" in your browser. We DO NOT save your full credit card number or expiration date. We retain only the last four digits of your card number to reference transactions.